North Korea's goals in 2022: internal stability and nuclear development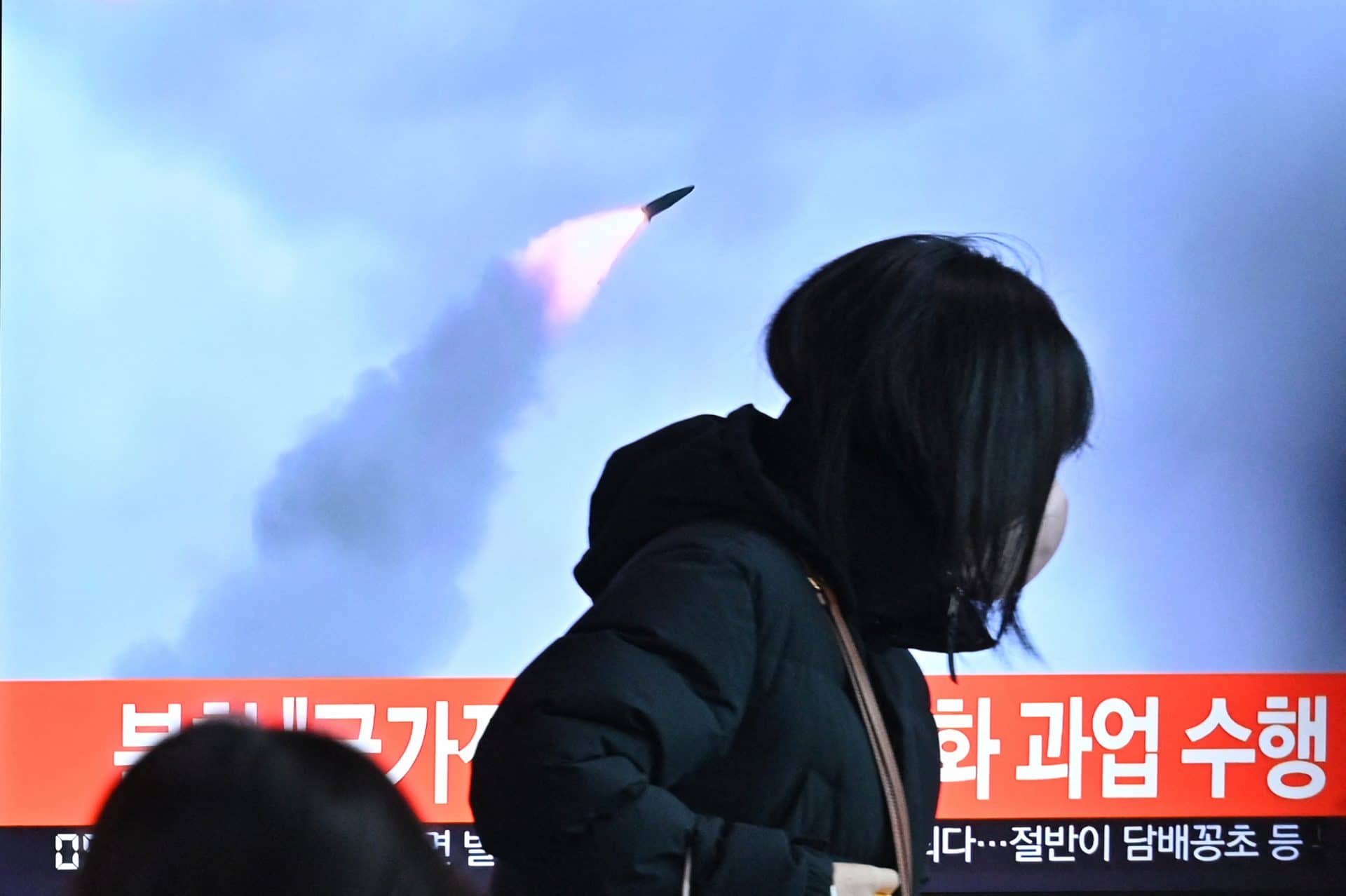 People walk past a television screen showing a news broadcast with file footage of a North Korean missile test, at a railway station in Seoul on January 11, after North Korea fired a "suspected ballistic missile" into the sea, South Korea's military said, less than a week after Pyongyang reported testing a hypersonic missile. (Photo by Anthony Wallace/AFP via Getty Images)
When North Korean state media reported that the Workers Party's convened a plenary meeting of its 8th Central Committee on December 27, it signaled that Kim Jong Un might not deliver a New Year's Day address this year. Sure enough, state media instead reported on the results of the five-day plenum in place of a grand speech on January 1. The first time Kim replaced his New Year's Address with a readout of a Party Plenum in the final days of the previous year was in 2020 when he ordered his people to "tighten our [sic] belts" to "defeat imperialism." Last year, Kim skipped his New Year's Day address, and in its place, state media delivered a report of his 8th Workers' Party Congress, which was held from January 5 to 7.
There now seems to be a pattern developing of North Korean leaders forgoing new year's messages, apparently indicating harsh times or a reflection of a decisive moment for the future of the regime, as seen in 1957, 1987, 2020, and 2021.
The latest year-end Party Plenum assessed and praised the first of a five-year plan that Kim Jong Un unveiled at his 8th Party Congress in January 2021. That was when Kim reiterated his top priority of economic recovery (from a triple crisis of international sanctions, flood damage, and the coronavirus pandemic) and disclosed an ambitious wish list of modern, strategic weapons. Those weapons include tactical nuclear weapons, missiles capable of carrying multiple warheads, military reconnaissance satellites, and "hypersonic gliding flight warheads in a short period." Sure enough, Pyongyang had a busy year of missile testing that included cruise missiles (March); a KN-23 short-range ballistic missiles from a train (September); a long-range cruise missile capable of carrying a nuclear warhead (September); its first Hwasong-8 hypersonic missile (September); and a new mini submarine-launched ballistic missile (October). Pyongyang also held its first "Self-Defense 2021" expo in October, showing off weapons it has tested or will test in the future.
The latest test launches of what Pyongyang claimed was a hypersonic missile on January 5 and on January 11 further demonstrate that North Korea will continue to push ahead with manufacturing and perfecting the nuclear weapons and weapons systems that Kim had ordered last January. Taken together, his remarks at the January 2021 Party Congress and December 2021 Party Plenum suggest that North Korea will be inward focused this year, prioritizing internal stability and advanced nuclear weapons development. The regime's foreign policy tactics will likely be devised depending on the coronavirus pandemic, its perception of the Biden's administration's policy toward North Korea, and developments in its external environment.
Internal stability and rural development first in 2022. Kim's orders for this year's work plan are to push forward with self-reliance, economic development, nuclear development, and ideological campaigns to eradicate practices that go against socialism. North Korea did not mention major economic achievements in the past year. Instead, the Party Plenum's third agenda item, out of six, stood out: solving its "socialist rural question." It heavily emphasized the need to develop and modernize its farming and rural communities—with a central focus on agriculture and food production. These indicators, coupled with a cautious, self-reflective tone about the past year, suggest a sense of urgency to implement this year's economic plan properly because of apparent failures last year. Achieving economic growth is one key component to reinforcing Kim Jong Un's legitimacy as a ruler.
Kim's focus on agriculture seems to reflect Pyongyang's ideology of Juche, or self-reliance, by laying the foundation to become a self-sufficient economy and to solve its chronic food shortages on its own without outside help. Self-reliance across all sectors has always been a national goal, but the coronavirus pandemic seems to have accelerated and energized efforts toward it. North Korea had long depended on Chinese and international aid until now, but Pyongyang closed the country's borders to trade and expelled foreign aid workers and diplomats in an attempt at preventing the importation of the COVID-19 virus. Kim's emphasis on COVID-prevention is not only for sheer survival; it also appears to be an effort to push the country to become self-sufficient.
North Korea plans to tighten state control and root out non-socialist practices in its rural regions by implementing an "ideological revolution in farms" to "turn them into communists … armed with the Juche idea … [to] powerfully propel socialist construction" and make "collectivism dominant in their thinking and life." The pandemic may have forced North Korea into isolation and exacerbated food shortages and economic stagnation, but it might have also provided Pyongyang with an opportunity to tighten its control over its people and reinforce the regime's socialist and communist roots.
Strategic goals and "hypersonic" missile tests. Some observers, particularly in the South Korean government, have stressed that Kim did not mention "strategic nuclear weapons" this January, implying they still have hope for a diplomatic breakthrough this year. However, such articulation was not necessary in 2022; Kim laid out his goal to develop "ultra-modern nuclear weapons" in his five-year plan at the 8th Party Congress last January.
In the past few years, North Korea has been focused on developing what it calls "tactical weapons," designed to evade and defeat ballistic missile defense systems in the region. They are more maneuverable and can fly at low altitudes. Pyongyang has been demonstrating its ability to produce them through a barrage of tests, including these: a "tactical guided weapon" in April 2019; new solid-fuel short-range ballistic missiles resembling the Russian Iskander in May 2019; an improved variant of the KN-23 Iskander-style short-range ballistic missiles in March 2020; a "hypersonic missile Hwasong-8" in October 2021; and a maneuverable reentry vehicle (MaRV) described by Pyongyang as a "hypersonic missile" on January 5 and Jan 11 this year.
Missile expert Vann H. Van Diepen points out that hypersonic glide vehicles would be a "niche contributor" to Pyongyang's diverse ballistic missile forces by providing another option to "avoid and attack missile defense," but that it would take more tests and several years to develop and deploy a credible and reliable system. The latest "hypersonic" missile tests are making good on Kim Jong Un's orders last year to produce hypersonic weapons. Indeed, Pyongyang released a statement after its January 11 test saying that last year's 8th Party Congress "set forth a strategic task of developing the hypersonic missile sector on a preferential basis … in order to bolster up the country's war deterrent."
Recent advances in its missile program indicate that North Korea aims to secure a second-strike nuclear capability, make its missiles modern and more survivable, reassure the North Korean people of its military might in regard to the United States, and credibly gain entrance into the nuclear club. Yet, the same movements raise questions as to whether the regime is also aiming for a credible first-strike capability. The weapons Pyongyang has tested and paraded during Kim Jong Un's rule may not be reliable yet. But they demonstrate the regime's goals, which will be achieved in time in the absence of a diplomatic agreement with the United States that can be completely implemented, regardless of changing administrations in Washington.
In the meantime, a rudimentary ballistic or hypersonic missile tipped with a nuclear warhead—even if not highly reliable—would still constitute a threat to South Korea and Japan and foreign citizens living there. Plus, the perception of acquiring advanced nuclear capabilities would arm North Korea with political leverage ahead of any future negotiations with the United States.
A tense diplomatic holding pattern. The readout of the Party Plenum notably paid very little attention to international affairs. It said that Kim Jong Un set forth "principled issues and a series of tactical orientation[s]" regarding "north-south relations and external affairs to cope with the rapidly changing international political situation and the circumstances in the surroundings." While details were scant in the readout, Kim Jong Un stressed the need for the country to strengthen its military and defense capabilities while putting "weapons and equipment on a regular readiness." This implies that Pyongyang will wait to see moves by the United States and South Korea. North Korea is apparently in no rush to exert itself internationally because of its urgent internal priorities during the pandemic.
Pyongyang's domestic and strategic blueprint for this year comes amid uncertainties in the future geopolitical and security landscapes. The US-China strategic competition continues to intensify, Beijing will host the Winter Olympics in February, South Korea will elect a new president in March, and annual US-South Korea military exercises are on schedule for March as well.
The lack of policy agreement among key regional players and their preoccupation with more pressing domestic or foreign policy challenges continue to push the North Korean nuclear issue further down their priority lists. It's a golden opportunity for Pyongyang to advance its strategic objectives without facing penalties from the international community. At this rate, the world may well again wake up to find North Korea in possession of even more dangerous nuclear weapons.