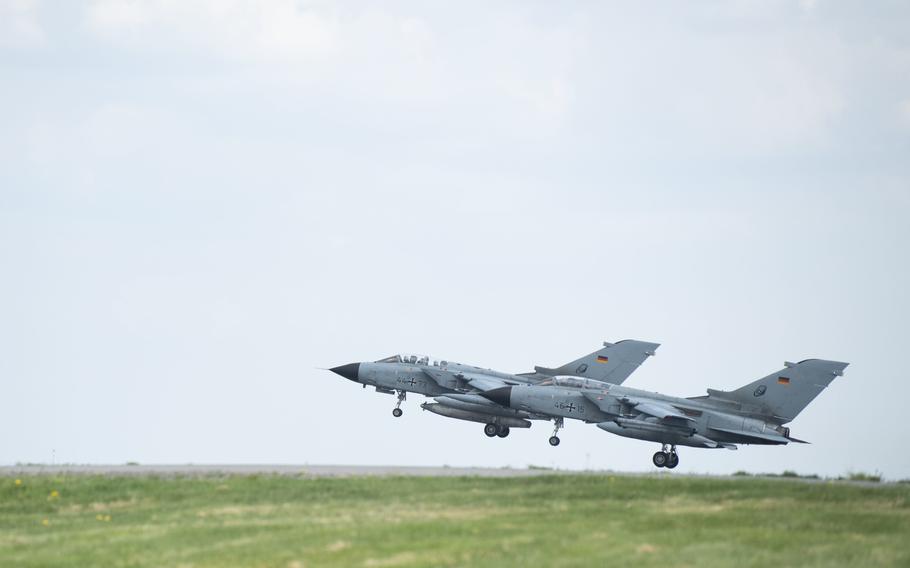 KAISERSLAUTERN, Germany — Russia's monthslong war in Ukraine appears to be swaying Germans' stance on storage of U.S. nuclear weapons after decades of staunch advocacy for removal of NATO's most powerful deterrent.
For the first time, a majority of respondents in a recent survey supported maintaining U.S. nuclear weapons in Germany, with some favoring the modernization and expansion of those munitions, German national and international news service Tagesschau reported earlier this month.
Panorama, a TV magazine of German public broadcaster ARD, surveyed 1,337 eligible voters from May 30 to June 1, asking what they would like to see done with the nuclear weapons still believed to be stored in Germany's Eifel region.
In a 2019 NATO parliamentary assembly report, the alliance accidentally published the locations of U.S. nuclear weapons in Europe, which included a site at Buechel Air Base. Although the report was later redacted, the location of the weapons had long been considered an open secret.
Just over half of poll respondents, 52%, expressed support for keeping the weapons in Germany. And of those, 40% said the status quo should remain, while 12% said the munitions should be modernized and augmented, according to the survey.
Meanwhile, 39% said the weapons should be withdrawn.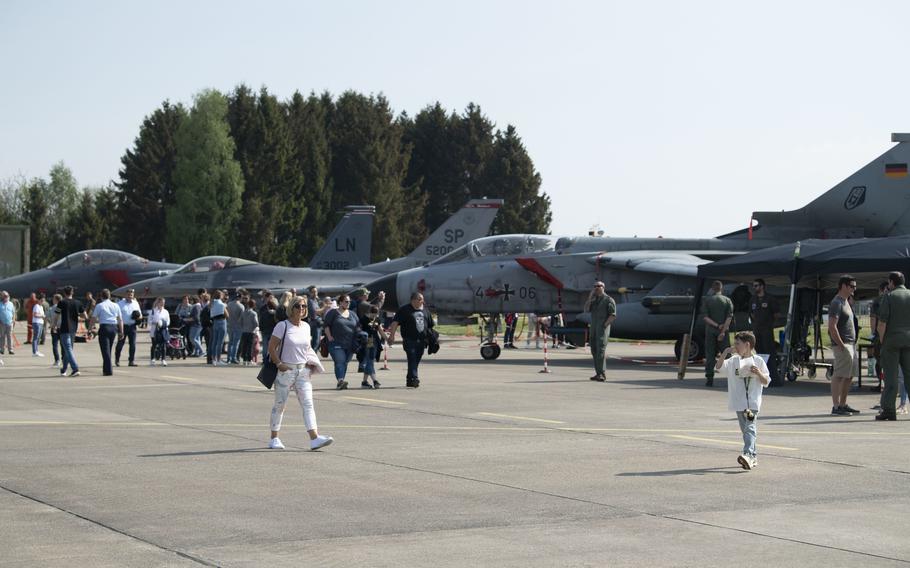 It's believed that about 20 U.S. nuclear warheads are stored at Buechel Air Base, a German installation near the city of Cochem, about 43 miles from the U.S.-operated Spangdahlem Air Base.
Neither NATO nor the U.S. and German governments will disclose precise numbers and locations for security reasons. But NATO has said the U.S. has deployed a limited number of B-61 nuclear weapons to locations in Europe.
Germany recently chose Buechel to be the future home of 35 American-made F-35 aircraft. They will fill the role of the aging Tornado jets, which Germany has relied on for decades.
The move is seen as strengthening Germany's role with regard to NATO's nuclear deterrence policy.
The U.S. Air Force's 702nd Munitions Support Squadron, which falls under Spangdahlem's 52nd Fighter Wing, operates from Buechel, overseeing reserve munitions in support of the German air force and directly supporting NATO operations, according to an Air Force fact sheet.
The ARD poll results contrast sharply with surveys taken as recently as two years ago.
A 2020 public opinion poll taken for the Munich Security Conference found that 66% of Germans believed "that Germany should completely abandon deterrence with nuclear weapons," according to an excerpt of the October 2020 Munich Security Report.
Of the 31% of respondents who at the time supported Germany's continued reliance on nuclear deterrence, a majority said the country should rely on France and the United Kingdom for such measures rather than the U.S., according to the report.
Germans' move away from pacifist tendencies as a result of Russia's unprovoked invasion has been mirrored in the government. Chancellor Olaf Scholz steered $107 billion to modernize the military and put it on a better footing among NATO counterparts. However, Scholz's government has come under intense criticism for failing to deliver promised weapons to Ukraine in a timely manner.
The war in Ukraine has reignited fears in Europe and the U.S. of nuclear war. Russian President Vladimir Putin has at times threatened to use nuclear weapons to express objections to U.S. and NATO military assistance provided to Ukraine.
Under a "nuclear sharing arrangement" with allies, if NATO conducted a nuclear mission in a conflict, the weapons would be carried by allied aircraft and supported by conventional forces across the alliance, according to NATO.