Russia has said that it launched sea-launched Kalibr missiles to destroy arms the west had supplied to Ukraine.
Chief spokesman for Russia's defense ministry Major General Igor Konashenkov said the long-range weapons had hit a number of targets, which included a batch of arms and equipment at a train station in the Zhytomyr region.
Video of Konashenkov's statement reported by state news agency Tass on Saturday was interspersed with footage of a daytime launch from what appeared to be a Russian Black Sea Fleet vessel.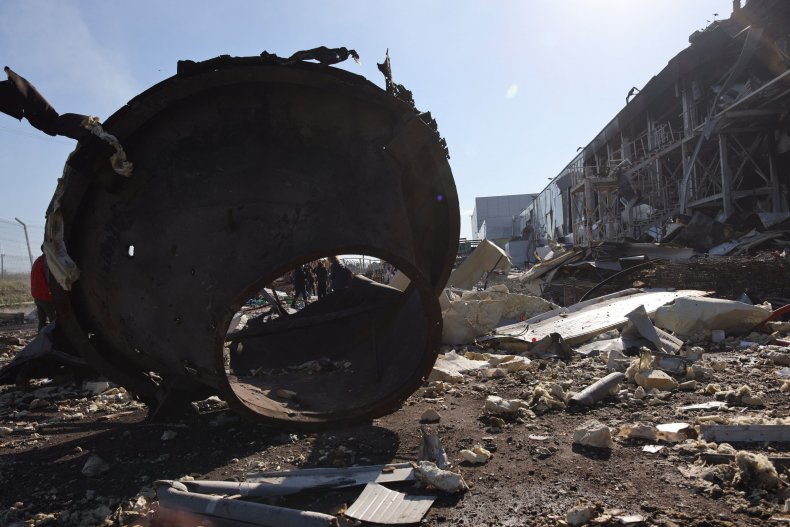 Konashenkov said that the weapons had been "delivered from the United States and European countries for the grouping of Ukrainian troops in the Donbas."
He said storage facilities with fuel for Ukrainian armored vehicles had been hit by the high-precision air-launched long-range missiles at a site in the port of Odesa and three Ukrainian command posts had also been successfully targeted. One was the command post of the 109th territorial defense brigade.
Two Ukrainian Su-25 jets had been shot down, one over the self-proclaimed Donetsk People's Republic and the other in the Kherson region, and eight ammunition depots had been hit, according to Konashenkov.
"More than 270 nationalists were destroyed as a result of airstrikes," he said adding that "52 units of military equipment were disabled."
Aerial images from Russia's defense ministry were shown in Konashenkov's statement of smoke rising from areas he said had been successfully targeted.
Next to a graphic, Konashenkov then listed what Russia says are Ukraine's military equipment losses since the start of the invasion on February 24. These included 174 aircraft, 125 helicopters, and 3,182 tanks, as well as other losses.
The claims Konashenkov made on Saturday have not been verified and Newsweek has contacted Ukraine's defense ministry for comment.
However, it comes amid an effort by Russia to intercept the increase in arms that the west is supplying to Kyiv's forces. Russia has said that the western arming of Ukraine amounts to a "proxy war" by the United States and its allies.
The U.S. Senate voted Thursday to send a $40 billion package of military and humanitarian aid to Ukraine as the country in its fight against Russia.
The State Department told Newsweek on Friday that "America and our allies and partners support their (Ukraine's) efforts to defend their country and protect their fellow citizens."
"We are the world's leading provider of security assistance to Ukraine in its hour of need," a State Department spokesman said on Friday, "and we are encouraging Allies and partners worldwide to do the same."