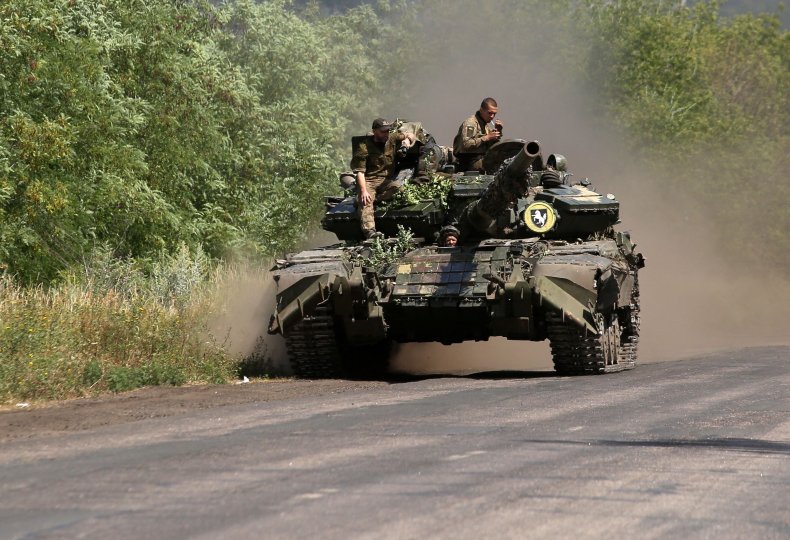 The Ukrainian military says that it killed 20 enemy troops, destroyed multiple tanks, eliminated armored vehicles and took out a howitzer in what was described as a "tense" day in the country's war with Russia.
Ukraine's Operational Command "South" reported in a Facebook post on Tuesday that that military had killed 20 Russian soldiers and destroyed two T-72 tanks, along with an "Msta-B" howitzer and four armored military vehicles. The battleground in the southern part of Ukraine was described as particularly "complex and tense."
The post also said that the danger of Russian missile strikes to Ukrainian civilians remained high, pointing out the presence of an enemy fleet of 13 ships and boats in the Black Sea, some of which could be carrying missiles. The military reminded civilians to act in accordance with warnings and to obey martial law.
"Given the fact that the threat of missile strikes and, in some areas, artillery shelling remains high, do not ignore air warning signals," the Facebook post stated. "If it is appropriate, follow the two-wall rule, take cover."
"Do not expose yourself to danger, observe the rules and restrictions of the legal regime of martial law, trust only verified sources of information and defense forces," it continued.
The Ukrainian Air Force also said in a Facebook post on Tuesday that its anti-aircraft weapons and a fighter jet shot down seven of eight Russian missiles that were headed toward central, southern and western Ukraine after being launched in the Caspian Sea from two Tu-95 strategic bombers.
Meanwhile, comments that Ukrainian Major General Vadym Skibitsky gave to The Telegraph on Monday, when he said that Ukraine was using U.S.-supplied weapons with the help of "real-time information of all kinds," have sparked Russian accusations that the U.S. is now "directly involved" in the war.
The Russian Ministry of Defense said in a statement that Skibitsky's remark "undeniably proves that Washington, contrary to White House and Pentagon claims, is directly involved in the conflict in Ukraine," according to Reuters.
"It is the Biden administration that is directly responsible for all Kyiv-approved rocket attacks on residential areas and civilian infrastructure in populated areas of Donbas and other regions, which have resulted in mass deaths of civilians," the statement continued.
Questions about Russian President Vladimir Putin's health were also raised during Skibitsky's interview with The Telegraph. The general said Putin was "not in good health physically or mentally" and that his confidantes were "panicking about his health."
"He uses a lot of doubles … and sometimes it is difficult to detect if it is the real Putin or someone replacing him," said Skibitsky. "The main strategic goal remains the same—the total destruction of Ukraine as a state."
Despite several unsubstantiated claims that Putin is suffering from various ailments, from cancer to Parkinson's disease, Russia has repeatedly denied that the leader is suffering from any serious illness.
"Ukrainian, American and British information 'specialists' have been throwing out various fakes about the state of the president's health in recent months," Kremlin spokesman Dmitry Peskov told reporters last month. "These are nothing but fakes."
Newsweek has reached out to the Russian government for comment.