Project Syndicate: You've attributed the recent uptick in violence between Palestinians and Israelis largely to a renewed sense of hopelessness among Palestinians, who feel "abandoned by their Arab brethren" as Israel forges ties with them to build a new security framework in the Middle East. Any such framework, you argue, will be fundamentally fragile unless it integrates the Palestinians. What steps must Israel and its Arab partners take to advance such integration, and what must the Palestinian side do to make it work? 
Shlomo Ben-Ami: The Palestinian issue was always supposed to be central to any Israeli-Arab reconciliation. Given this, the Abraham Accords, whereby Israel established diplomatic relations with four Arab countries (Bahrain, Morocco, Sudan, and the United Arab Emirates) in 2020, together with the peace treaties that Israel already has with Jordan and Egypt, represent a major strategic setback to the Palestinian cause. Indeed, by creating security alliances with Israel, the conservative Arab regimes have prioritized confronting the threat of a nuclear-armed Iran over defending the Palestinians.
With the wave of terror attacks by young Palestinians and the riots in Jerusalem "in defense of the Al-Aqsa Mosque," the Palestinians are issuing a warning: they can disrupt this new Arab-Israeli security architecture and inflame the masses throughout the Arab world into what could be the mother of all jihads.
Alas, the old peace paradigm of bilateral Israeli-Palestinian peace negotiations has been a monumental failure. A Palestinian peace needs to be near the top of the agenda of the regional security alliance that was created at last April's Negev Summit, hosted by Israel and attended by the foreign ministers of Bahrain, Egypt, Morocco, and the UAE, as well as US Secretary of State Antony Blinken. Palestine (and Jordan) must be integrated into this regional system.
But there are barriers to success, especially Palestinian disunity and Israel's utterly dysfunctional government coalition. To overcome these barriers, the United States and Arab stakeholders need to lead the way in coaxing the parties into the process, even if an endgame remains distant.
PS: Last December, you argued that "even if global powers manage to revive the 2015 nuclear deal" with Iran, "diplomacy may only delay the inevitable." How has Russia's war in Ukraine – a country that gave up its nuclear weapons in exchange for security "assurances" – affected Iran's strategic calculations? Amid reports that the West has largely lost hope in resurrecting the nuclear deal, what should regional powers do to mitigate the threat posed by a nuclear Iran? Who should take the lead?
SBA: The war in Ukraine has reasserted the relevance of nuclear weapons as a major deterrent in global conflicts. For the first time since the end of the Cold War, a great power has publicly threatened to deploy tactical nuclear weapons. And the threat worked: The West has been carefully calibrating its arms supply to Ukraine, in order to avoid giving Russia reason to resort to nuclear escalation. Moreover, Russia's unprovoked invasion of Ukraine would not have happened had Ukraine not surrendered its nuclear arsenal under the 1994 Budapest Memorandum on Security Assurances, which included American and Russian guarantees to respect and defend its territorial integrity.
Revolutionary powers such as North Korea and Iran have watched these developments closely. For Iran, a rising Shia power, its nuclear program represents an insurance policy against the surrounding Sunni powers, all allies of Israel and the US. North Korea's nuclear logic is not much different.
Subscribe to Project Syndicate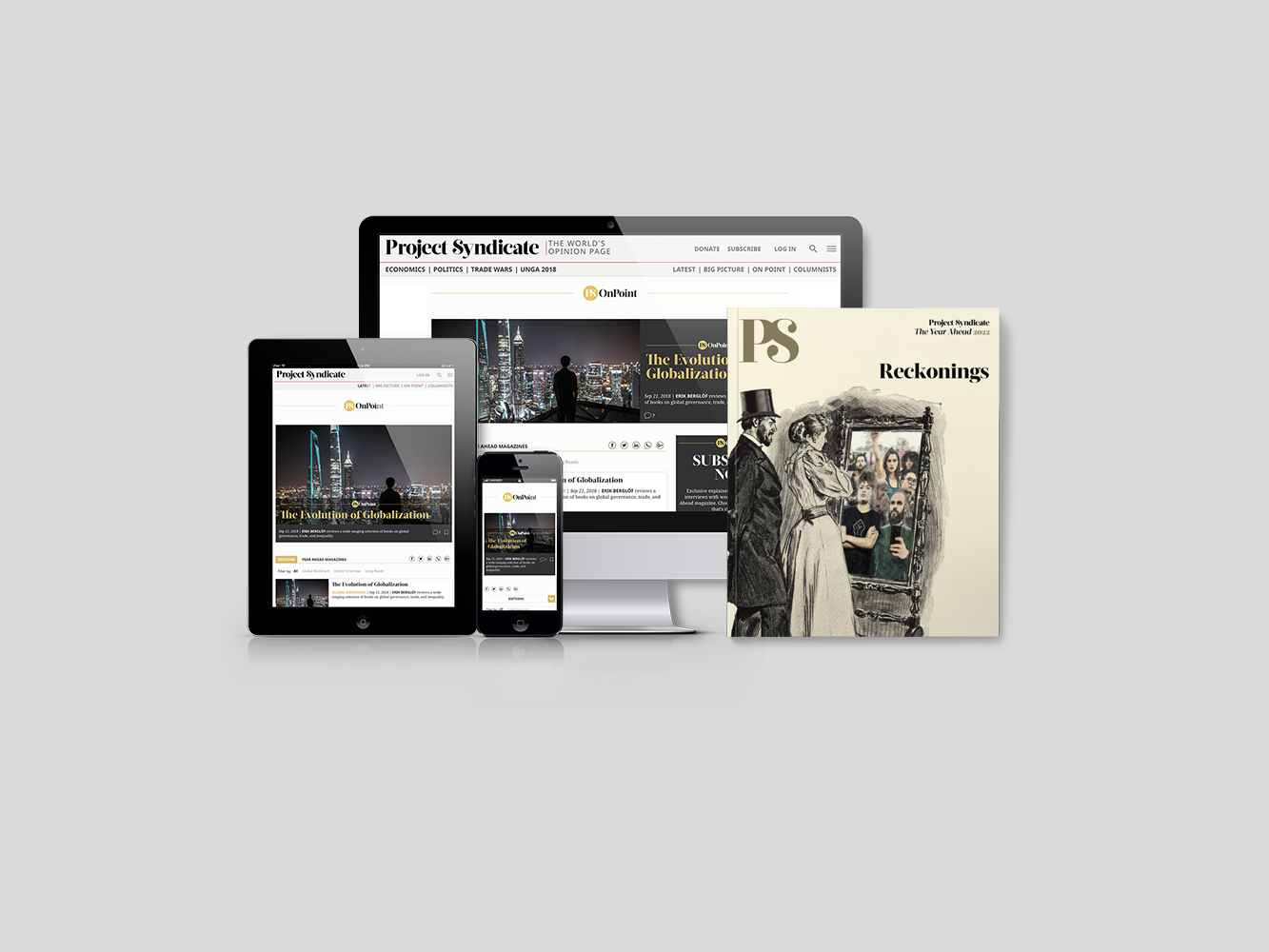 Subscribe to Project Syndicate
Enjoy unlimited access to the ideas and opinions of the world's leading thinkers, including weekly long reads, book reviews, topical collections, and interviews; The Year Ahead annual print magazine; the complete PS archive; and more. All for less than $9 a month.
There are few realistic options for stemming the trend toward nuclear proliferation. One development that would make a difference would be for the five big nuclear powers to lead by example and start reducing their arsenals drastically. The obstacle here arises from the disparity between American conventional military might and that of China and Russia. For France and Britain, meanwhile, maintaining nuclear weapons is an issue of status.
If leaders of the caliber of Ronald Reagan and Mikhail Gorbachev – capable of overruling their respective security establishments – re-emerged, they could potentially lead such a non-proliferation movement. But such leadership does not seem to be imminent.
Another possibility would be to establish a zone free of weapons of mass destruction in the Middle East. But this could happen only if agreements were reached on the major conflicts in the region, and Israel surrendered its supposed nuclear capabilities.
I am not optimistic about any of these scenarios. Ultimately, however, whether a regime has nuclear weapons is not the main issue. It is the nature of the regime that counts.
PS: You have repeatedly highlighted flaws in the West's approach to China, including framing the US-China rivalry as an ideological contest and hoping for regime change. Does the war in Ukraine make a military clash between the West and China more likely? If so, what policy changes would help to reverse this trend?
SBA: US President Joe Biden has doubled down on his predecessor Donald Trump's approach to China. Rather than working to integrate China into the international system, the US is bent on "containing" China through harsh sanctions, a new military alliance (AUKUS, with Australia and the United Kingdom), the Quadrilateral Security Dialogue (with Australia, India, and Japan), and efforts to forge a global alliance of democracies.
The problem with this strategy is that it lacks a conceivable endgame. China's long history makes clear that it will not be transformed into a Western-style democracy. But even if that happened somehow, China would not abandon its ambition to occupy the place in the global system that it believes it deserves.
The lesson that China is likely taking from the Ukraine war is that the West is not quite as toothless as Russian President Vladimir Putin expected. It clearly retains considerable capacity to mount a global sanctions campaign. While Chinese President Xi Jinping has taken some steps to decouple from the US and bolster internal resilience, China remains highly integrated in the global economy. Its vast US dollar assets alone would make it highly vulnerable to sanctions, were it to decide to invade Taiwan. In any case, China's leaders detest the kind of instability that armed conflicts bring.
In light of these factors, I believe that the US-China competition is unlikely to degenerate into an all-out war, at least for now. But it will spur China to continue reducing its exposure to the US dollar and global commerce, and to continue its quest for technological supremacy. This will significantly reduce the West's leverage in the longer term. The US should therefore act now to shift its China strategy from containment to constructive dialogue. The essence of statecraft in times of conflict is expanding one's alliances and splitting those of one's enemies. A Russian-Chinese split is not impossible.
BY THE WAY . . . 
SBA: Ukraine made a mistake in entering negotiations with Russia at a very early stage of the war, when the impression was still that Russia's military were unstoppable. A mutually harmful deadlock offers a better opportunity to reach a peace agreement. Unless Russia introduces nuclear weapons into the equation, we may be nearing such a deadlock, owing partly to the fact that the US and its allies have wisely calibrated their arms supply to prevent a Ukrainian defeat while not provoking Russia to escalate.
The Ukrainians should not enter negotiations if the price of admission is accepting Russia's demand that they not join NATO. This should be a concession in a negotiating process, not a pre-condition to it.
That said, as I argue in my latest PS commentary, peace is about equilibrium and stability, not justice. The just outcome – Russia's full withdrawal from Ukraine and reversal of its annexation of Crimea – would be political suicide for Putin and a tremendous setback for Russia's international standing. Far from being a cooperative participant in a European security system, a defeated Russia, as a humiliated nuclear-armed superpower, would pose an enduring threat to it.
Western powers should be part of the peace process, not only because they are part of the conflict, but also because they are the ones with the power to compensate Russia for any concessions it makes. That compensation should come in the form of a European security system that addresses key Russian concerns and upholds the neutrality and territorial integrity of Ukraine, Moldova, and Georgia. Finally, to deal with Ukraine's dual identity, the ethnic Russian regions of Donetsk and Luhansk would have to enjoy significant autonomy within a federal state, as was stipulated by the 2015 Minsk II settlement. 
PS: Is Europe's move to bolster its defenses, including probable Finnish and Swedish accession to NATO, and end its dependence on Russian energy likely to ensure long-term peace on the continent, or trigger a return to Cold War-style tension and insecurity?
SBA: For far too long, Europe has remained comfortably embedded in a "post-historical" world, while outsourcing its security to American taxpayer. The war in Ukraine marks the end of the myth that history "ended" with the end of the Cold War and the dissolution of the Soviet Union. It also vindicates the Latin adage, Si vis pacem, para bellum ("If you want peace, prepare for war."). A strong and united NATO would help secure peace.
But any European security architecture that emerges from the Ukraine war must include buffer areas between Russia and NATO. Ukraine, which will probably have to abandon its aspirations for NATO membership as part of any peace settlement, should be one such zone. Sweden and Finland, with its 830-mile border with Russia, should be two more. The alternative is a long border in a permanent state of friction, war, or the imminent threat of war.
For the foreseeable future, peace must be based on disengagement. The end of Europe's dependence on Russian energy would contribute to peace, as it would force Russia to diversify its economic model, increase Russia's stake in global stability, and drive the country to become a more active participant in the global economy.
PS: In Prophets Without Honor, you compare the Israeli-Palestinian peace process with others in recent history. What makes a peace process more or less likely to succeed?
SBA: Conflicts that do not have religious and ethnic components are more disposed to a diplomatic solution. The Egypt-Israel peace treaty of 1979 was about land and security. So were the negotiations that almost brought peace with Syria in the 1990s. Such tangible factors are the stuff of diplomacy. When you add intangible factors – like religious beliefs and historical narratives of dispossession – diplomacy becomes much more difficult. These are the issues at the center of the Israeli-Palestinian conflict.
War is almost invariably what creates the opening for productive peace negotiations. Without the 1973 Yom Kippur War – in which Egypt recovered its honor and self-confidence, and Israel was thrown off balance – Israel would never have agreed to withdraw from the entire Sinai Peninsula for the sake of peace. In Colombia's war against the Revolutionary Armed Forces of Colombia (FARC) – one of the most atrocious insurgencies imaginable – peace became possible only after the insurgents had been severely decimated by the government's forces.
But, again, these were not religious conflicts. In Northern Ireland, reaching the 1998 Good Friday peace agreement was difficult enough. Even in the years since, the conflict has persisted, albeit in a subdued form, because ethnic and religious divisions do not simply go away.
Civil wars tend to have their own logic: they normally end with the total defeat of one of the parties. Examples include the US (1861-65), Spain (1936-39), Greece (1946-49), China (1927-49), and Russia (1917-22). The same will probably be the case in Syria.