Star Wars fans are criticizing Disney after they spotted what appears to be an AK-47 in the trailer for the new show Andor.
The full-length trailer dropped on Monday, August 1, and fans on social media were quick to point out that one of the characters seems to be holding a familiar-looking assault rifle, amid rising gun violence in the United States.
"The Andor trailer looks amazing. But was that an AK-47 in the first 10 seconds?" asked one Twitter user.
A second wrote: "5 seconds into the trailer and you've already p***** me off. The guy has got a f****** AK 47!!! IN A STAR WARS F****** SHOW! YOU'RE SO LAZY A F****** AK47! You couldn't be bothered to design a space gun. I'm so tired. So very tired."
Another fan tweeted: "#Andor Is this dude carrying an AK-47?! Come on props man, you ain't even trying!! Rest of the trailer looks promising. Skarsgård is the frikkin' master. There may be hope."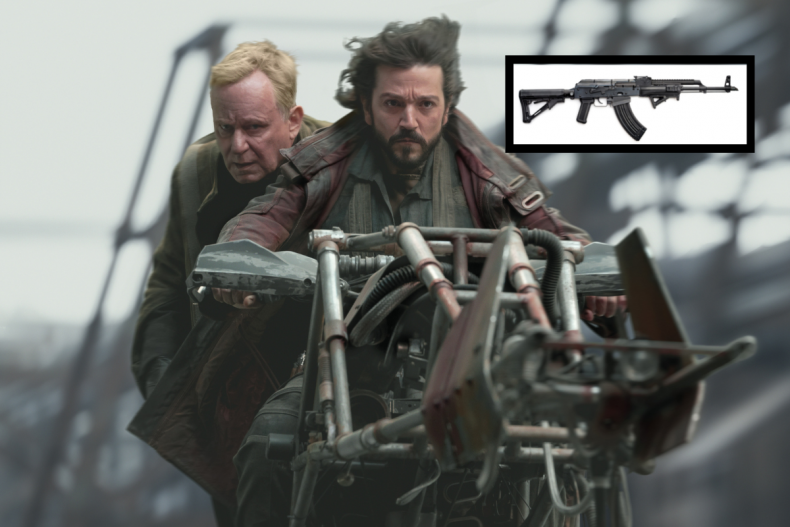 A screenshot from the trailer also prompted discussion on Reddit's Star Wars forum.
"It makes no sense to be here, it's Star Wars," wrote one fan. "Totally looks out of place," commented another.
One Redditor disagreed, however, pointing out that the franchise's creator George Lucas had been inspired by real wars.
"Whilst it does look slightly out of place, in the real world, the AK is one of the weapons associated with militas/rebel groups/terrorist organizations. George Lucas always said the rebels were based on groups like the Viet Cong, so maybe its a nod to that?"
According to the military news website Task and Purpose, Lucas drew on the Vietnam War for inspiration when he began making his Star Wars movies in the 1970s. The Vietcong guerrillas often used AK-47s.
The trailer's release follows a wave of mass shootings in the United States, including massacres in Buffalo, New York, Uvalde, Texas and Highland Park, Illinois.
None of these shootings was carried out with an AK-47, but it and other rifles such as the semi-automatic AR-15 have become symbols of the debate over gun ownership and control.
On Friday, July 29, the House of Representatives passed legislation that would ban assault weapons for the first time since 2004. The measure is not expected to pass the Senate, however.
Newsweek has reached out to Disney for comment on the Andor trailer.
The first three episodes of the show will be released on September 21 on Disney+. The rest of the 12-episode season will air weekly.